Self-Heal Flower Essence Skin Creme (Small)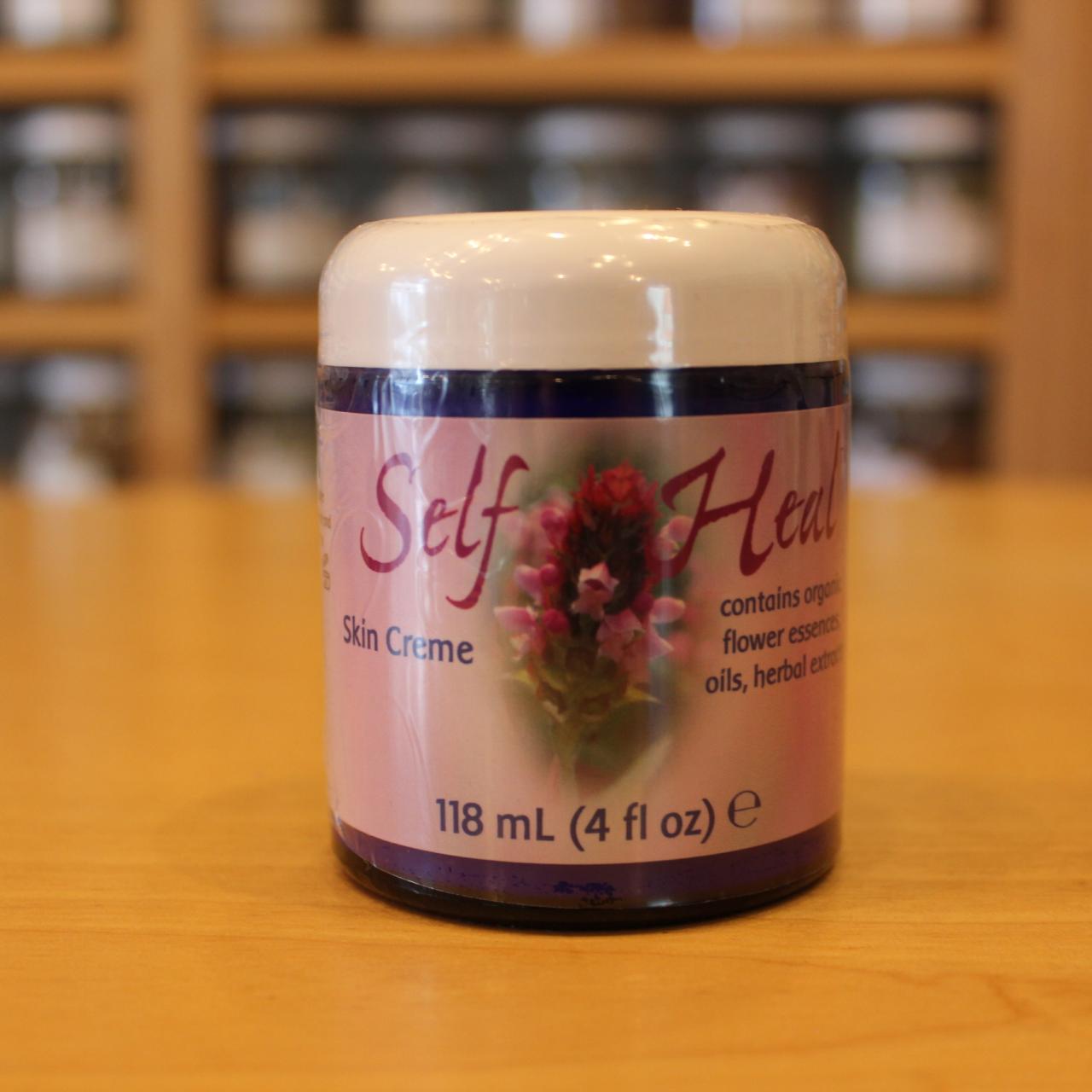 $38.95
Skin cream for inflammatory conditions and general healing; great for sensitive skin
This world–renowned creme can be used in a wide variety of circumstances such as burns, wounds, cuts, rashes, chronic skin inflammation, sprains, and other injuries. Highly effective for general skin care use as a facial skin moistener, hand creme, general body creme, and even for infant care. Clinicians have found it to be profoundly healing for eczema. This gentle yet effective creme is very nourishing with basic therapeutic and regenerative qualities appropriate for any skin type and can be used in clinical situations and in home care. Made with the flower essence and fresh plant tincture of the extraordinary Self Heal (Prunella vulgaris) herb, in a soothing, moisturizing herbal infused base with flower essences and aromatherapy.
This Paraben-free formula is made with organic and Biodynamic ingredients:
Self-Heal flower essence: The FES flower essence of Prunella vulgaris awakens the healing forces of the etheric body.

Self-Heal whole plant tincture: A well-known herbal remedy for topical and internal use, it is restorative and regenerative.

Chamomile and Calendula extracts in olive or almond oil: These herbs and oils protect and rejuvenate the skin.

Comfrey root tincture: Comfrey has been known historically for its regenerative properties to the skin and bones.

Aloe Vera gel: Soothes, moisturizes, tones and protects the skin. It contains amino acids, minerals, vitamins, and enzymes. Great for general healing, especially burns and dead tissue.

Olivem (cetearyl olivate & sorbitan olivate): A natural emulsifier derived from olive oil. It helps the skin retain moisture and gives a smooth, silky feeling to the creme.

Almond oil: As an emollient and moisturizer, almond oil nourishes and softens the skin helping to keep it smooth to the touch.

Jojoba oil: A wax from a desert bush that protects the skin from drying. It soothes, moisturizes, softens, and is easily absorbed into the skin. This oil closely resembles the sebum production of our skin.

Avocado oil: A nutritive vegetable oil that smoothes and softens the skin. It is easily and quickly absorbed into the skin, transporting other active ingredients.

Shea butter: Extracted from the fruit of an African tree, it protects the skin, relieves dryness, and is easily absorbed into the skin.

Aromatherapy Essential Oils: Orange (warm and uplifting); Lavender (relaxing and antiseptic); Ylang Ylang (a tonic and balancer); Geranium (anti-fungal, anti-bacterial, and astringent cleansing properties), Jasmine (relaxing and calming).

Vegetable glycerin: A natural humectant derived from coconut or palm oil. It relieves skin dryness and aids spreadability.

Silica: A natural mineral, it contributes to the silky quality of the creme.

Cetyl alcohol: A waxy emollient and emulsifier derived from coconut oil, which is used to thicken and give body to the cream.

Glyceryl stearate: An emollient and emulsifier derived from vegetable fatty acids used to thicken and give body to a product. It has humectant properties and feels pleasant on the skin.

Xanthan gum: A natural, fermented carbohydrate used to thicken and stabilize skin care products.

Tocopherols: Mixed tocopherols (vitamin E) from natural, certified non-GMO sources; an antioxidant which protects and moisturizes the skin. It is known to neutralize free radicals.

Water: Deionized so that it becomes a standardized medium without the interference of high pH, bacteria, or minerals; water provides a vital moisture factor to skin care formulations.

Potassium sorbate: A preservative known for its effectiveness against yeasts, molds, and fungi. It is derived from sorbic acid, which is also a constituent of the rowan berry (Sorbus aucuparia).

Totarol: An excellent all-natural anti-bacterial and anti-oxidant preservative extracted from recycled Podocarpus totara heartwood, a tree native to New Zealand.