Turmeric Tonic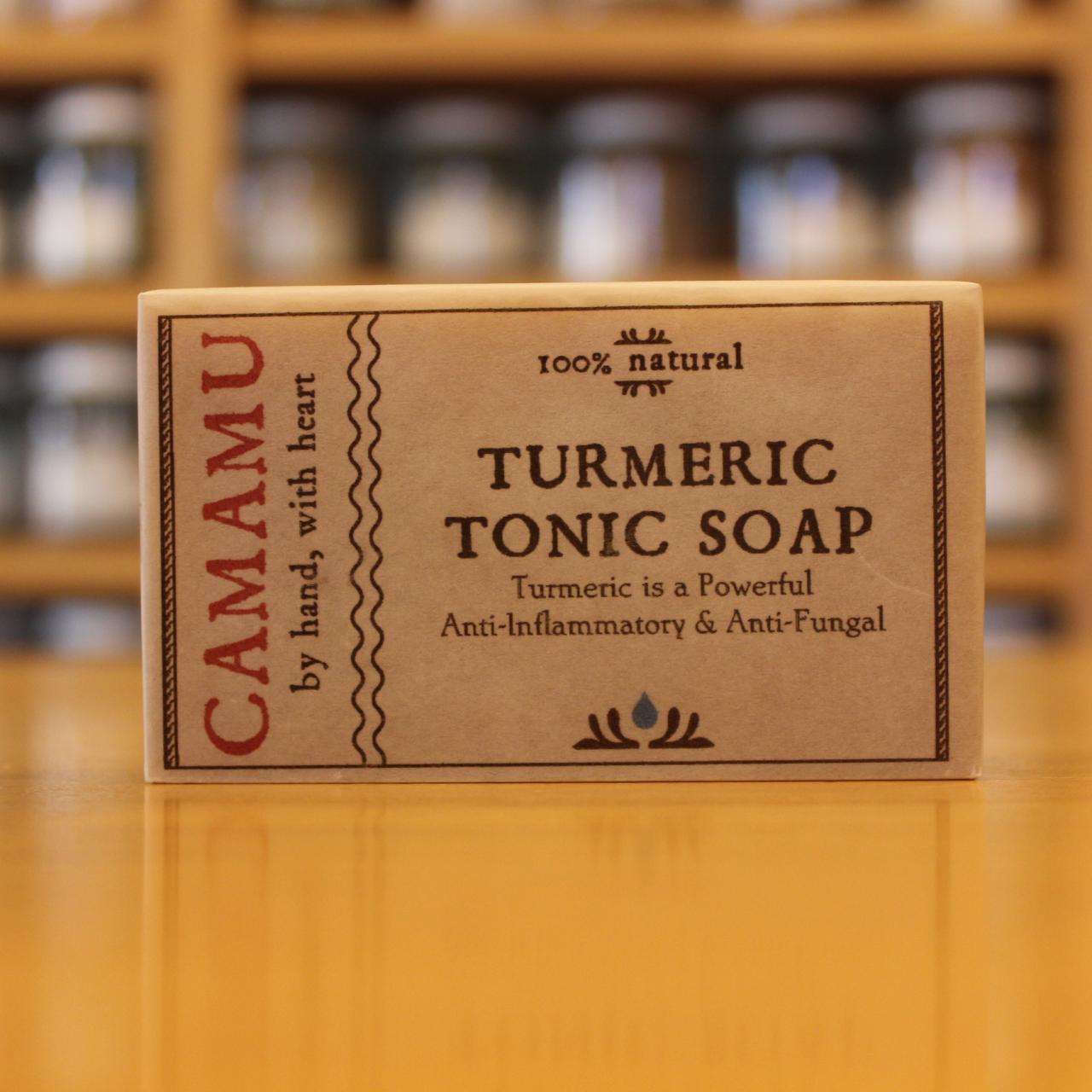 $6.99
Anti-inflammatory & anti-microbial; strong anti-fungal
Turmeric is such an amazing plant. Profoundly therapeutic inside and out, it is a strong anti-inflammatory with potent anti-microbial (especially anti-fungal) activity. To make this soap organic turmeric powder is infused in olive oil, put additional powder directly into the soap batter and then add tea tree and turmeric essential oils. We recommend this soap for use against mild acne, athlete's foot, dermatitis or just for gentle cleaning of scrapes and scratches.
Handmade from scratch using olive, coconut, palm & apricot kernel oils; turmeric-infused olive oil; organic turmeric powder; essential oil blend of tea tree and turmeric.
Available as 4 oz bar. 100% natural & vegan.
Camamu's soaps 100% natural and are handmade from scratch in small batches using skin-loving vegetable oils, pure essential oil blends and all-natural additives. Camamu soaps gently cleanse while nourishing, moisturizing, repairing and balancing the skin. They are made using a cold-process method, leaving all the glycerin that forms naturally during the soap-making process in the soap.
A variety of base oils are used in these soaps but the ones used in greatest quantity are olive, coconut and palm. To boost the luscious soaps' moisturizing, conditioning and reparative properties enriching oils like tea seed, sweet almond, avocado, shea butter and wheat germ are added. Camamu's pure essential oil blends bring aromatherapeutic benefits to body and soul as well as balancing and helping to heal the skin. They provide gentle anti-microbial action and help combat inflammatory conditions. Herbal infusions, and culinary and botanical ingredients are added to the soap to intensify its general skin care, moisturizing and healing qualities. Honey is used for its healing and humectant qualities, corn meal and poppy seeds for gentle exfoliation, clays for absorbing surface oils, organic herbs for soothing and healing, goat's milk for balancing and nourishing, activated charcoal for detoxifying – the list goes on and on.
Camamu has been committed to making 100% natural products since the beginning and has never wavered. They are adamant that skin care products are no place for chemicals, lathering agents, synthetic derivatives, preservatives, parabens, sodium lauryl sulfate, mineral ores or micas. They never use animal fats – all of their products are vegan except for those containing honey or goat's milk.